Controller (Senior Accountant) Services
A Controller typically guides an organization's financial decisions by establishing, monitoring, and enforcing policies and procedures. The Controller also performs checks and balances to ensure the accuracy of your financial records. Do you have that level of advice, or are you making financial decisions by the seat of your pants?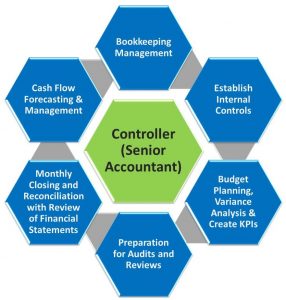 Who protects your organization's assets, or establishes, monitors and enforces internal controls? Is anyone monitoring and confirming the company's financial condition by providing information to external auditors? We will engage in professional dialogue with the CPA firm about the proper content and presentation of your financial information.
Who in your organization is in charge of the production of your monthly financial reports, or takes responsibility for maintaining your business system and accounting records? Do you have a trusted advisor that helps you lower risk while enhancing the accuracy of your company's financial reports and budget? Do you know how profitable your organization is at any given moment? Have you ever found yourself to be less profitable than you thought?
These are among the many services a Controller from RAH!CFO can do for you. When you hire a RAH!CFO controller, we make sure that:
Timely and accurate financial statements are prepared and reviewed with you
Accounts payable are paid when you authorize them
The bookkeeping functions are efficiently managed
Financial and operational forecasts are constructed properly
Cash flow forecasting is provided
Financial analyses are done as needed in regards to investing, pricing decisions and negotiations of contracts
Budget and debt levels are monitored to keep the company financially fit
To see how RAH!CFO can assist you with controller services, contact us at (973) 287-6094, Rich at Rich@RAH-CFO.com.